Save your pennies and gather up some dimes, cuz yer gunna want to have some spending money as Billetproof CA 2010, Sept 18-19, 2010 at the Contra Costa County Fairgrounds in Antioch, CA will be holding a charity auction and raffle benefiting the Scarlet Fever Fund and the LAPCATS Animal Rescue.
Tickets for the Scarlet Fever Motorcycle Raffle will be on sale at the show and the winning raffle will be drawn on Sunday afternoon at the show! The bike was built by GRUMPYS MOTORCYCLES with custom paint by TYLER PULLEN of T.P. CUSTOMS with major donations from ROAD LORDS c.c. & Custom Chrome. It is equipt with a 98″ Shovelhead motor w/ dual plugged heads,S&S Stroker kit installed in factory cases, 98″ Big bore kit with 10 to 1 ratio total, direct oiler kit,Hard lined oil lines with genuine Earls fittings, 5 speed Spyke transmission,3″ BDL open primary with competitor clutch,Cole Foster gas tank, 4 piston chrome front brake, "Sprotor" style rear brake, Exile forward controls,Arlen Ness hand controls, Avon White wall tires,custom seat by Needles & Pins pleat shop,laced,flaked & scalloped. and lots more ! These pics do not do justice to the killer paint job done by TYLER PULLEN. Heres a chance to win a killer custom motorcycle and help out one of our own at the same time ! TICKETS ONLY A 20 DOLLAR DONATION AND YOU NEED NOT BE PRESENT TO WIN ! ! !
You can find more information about Scarlet and the raffle motorcycle here: Scarlet Fever on MySpace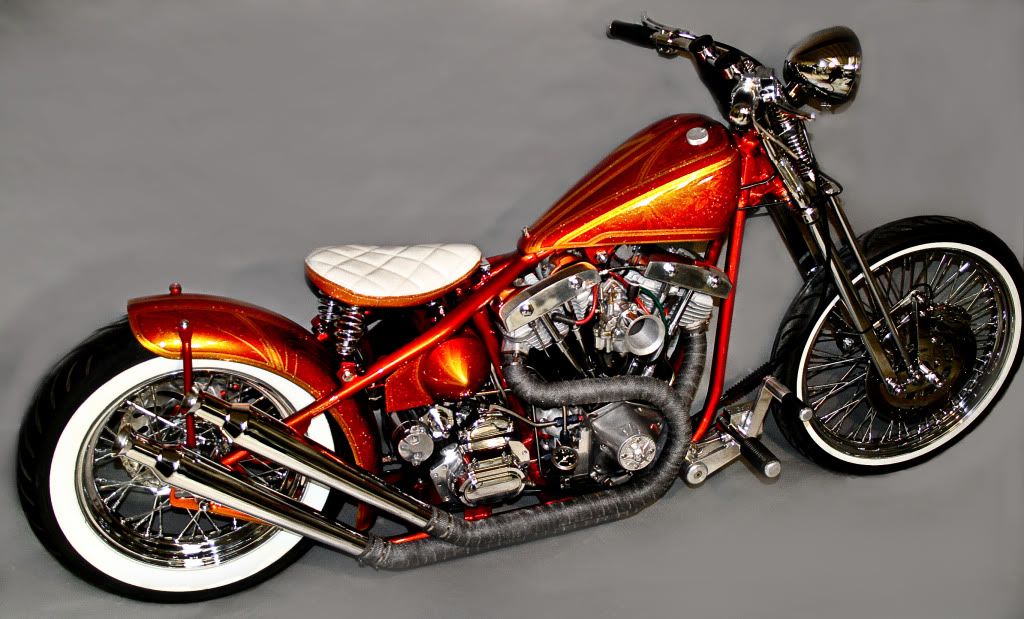 There will also be a Pinstripers Panel Jam Charity Auction on Saturday and Sunday! Northern Califonia's best pinstripers will be laying lines on skateboard decks donated for the cause and we'll be auctioning them off to the highest bidder. Proceeds will go to the Scarlet Fever Fund and LAPCATS Animal Rescue Sacramento.